The tradition grows sweeter by the decade! The 24th Annual California Strawberry Festival May 19 and 20, 2007 at Strawberry Meadows of College Park in Oxnard brings together thousands in celebration of the tasty fruit while paying tribute to the region's agricultural heritage and helping to enhance lives.
With scrumptious strawberry foods, the Strawberry Promenade with cooking and berry decorating demonstrations, live concerts on two stages. Other activities include Strawberry Land for Kids fun zone with the Jest in Time theatre, gooey contests, the Star Berry Hunt, and an award-winning Fine Arts & Crafts showcase with more than 300 artisans.
---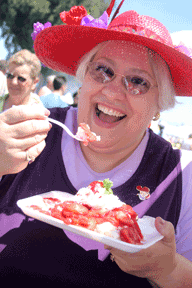 ---
The non-stop fun is available for the general admission of $12, seniors 63+ at $8 and children ages 5-12 at $5. Kids 4 and under are free. Active military and dependents with ID are $8. Hours are 10:00 a.m. to 7:00 pm on Saturday and 10:00 am. to 6:30 pm Sunday.
Never in short supply, delicious berry delicacies abound, from kabobs to pizza and even strawberry beer – strawberries, shortcake, chocolate dipped, glazed and powdered, are all for the feasting from 50 food and beverage booths. Field-fresh berries by the flat or pint are among the take-home favorites. Those with an appetite for in your face entertainment get a mouthful in the tart toss and strawberry pieeating contest.
Presented by the all-volunteer Executive Board of the California Strawberry Festival, a non-profit corporation, the multi-faceted Festival which began in 1984 pays homage to the region's $230 million annual strawberry industry garnered from 8,500 bountiful berry acres while giving back to the community through a multitude of beneficial ways.
The free Park & Ride "Strawberry Express" shuttle from convenient locations off the 101 Fwy makes getting to the Festival a breeze. The scenic community of Oxnard is located 60 miles north of Los Angeles and 30 miles south of Santa Barbara, easily accessible via all forms of public transportation. On site parking is free. Additionally, a partnership with Amtrak makes the getaway even more of an adventure with "no-hassle" transportation. Shuttles greet trains at the Oxnard Transportation Center stop.
Information Line is 1 888 288-9242 or visit the official website at www.strawberry-fest.org