Nothing says love quite like a rawhide-flavored greeting card—if you're a dog, that is. This year, pet parents are finding a wider selection of innovative gifts to warm the hearts of their furry friends.

Here are a few of this year's most paw-inspiring gifts: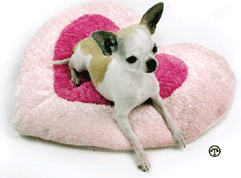 • Petmate's Hearts and Swirls Designer Bowl features a whimsical image of pink hearts on a white background. The bowl's low profile won't interfere with whiskers while cats are feeding. The bowl is made of lightweight, durable polymers that resist nicks and scratches, which can trap bacteria. Pet parents love the cute, fade-proof, dishwasher-safe design. www.petmate.com

• Let your love for your pet shine with PolyBrite International's Lighted Hearts Collar Covers. The collar covers attach to an existing collar, leash, harness, horse's reins or bridles with Velcro to keep your pet safe at night. The lighted red hearts design requires one 2032 replaceable lithium watch battery. www.polybrite.com

• Send your furry valentine a Crunch Cards edible greeting card to show them how much you love them. Crunchkins has eight cards, made of a flattened rawhide panel and printed with edible ink.

The new designs feature such sentiments as "Love and Licks," "A Love Treat for Someone Sweet," "I Ruff You," "Love is in the Air" and "They Call It Puppy Love." Each card comes packaged with a red envelope for mailing. www.crunchkins.com

• The Pampered Pet Heart Bed by Petmate is a sweet retreat for small dogs and cats.
Made with plush polyester fabric for ultimate comfort, the fashionable bed features a wrap- around full bolster design that gives pets an ideal resting place. www.petmate.com

• Fish can be pretty in pink. The Casco Group's Baby biOrb is a globe-shaped aquarium that holds just four gallons of water and comes with a stylish top and bottom. It's handy for novice fish keepers or those with limited space. The acrylic aquarium's tops and bottoms come in four different colors. www.biorbusa.com

• Doggles Comfort Heart is a pink, heart-shaped pillow that is digitally enhanced with a mother's heartbeat set on a 30-minute timer. The pillow is 15 inches tall and perfect for comforting new puppies or providing extra emotional support to adult dogs that might suffer from separation anxiety.

Doggles also offers pink human and pet matching sunglasses, pink hats, clothing and accessories and heart-shaped collar charms. www.doggles.com

• Here's a little something for your lovebug. The Bed Bug Play Center from Marshall is a great dual-purpose toy that can be used as a sleep sack or a play center. It can be used inside or outside a pet's cage. It is an interactive toy for pet and owner. Great for multiple pets. www.marshallpet.com

• February is also Doggie Dental Month. Make your pooch adorable, lovable, kissable and huggable with KissAble Dog Toothbrush and Toothpaste by Cain & Able Collection. The design of the KissAble toothbrush makes it easy to clean all three sides of the tooth with one stroke. The soft bristles massage the gums while the firmer bristles clean teeth. The vanilla-flavored, all-natural toothpaste is great for dogs and their people. www.cainandablecollection.com.

For more information on APPMA, a not-for-profit trade association, visit www.appma.org.


If you "paw-sitively" love your pet, you may want to learn more about the latest pet-pleasing, purr-inducing gifts for Special Holidays.