By: Leslie Harris and Michelle Edelman



As Boomers enter their sixties, they face the biggest transitions of their lives—from steady employment to phased or full retirement; from overall good health to issues of aging and chronic illness; from long marriages to the death of a spouse; and from feeling immortal to beginning to face their own mortality and that of their friends and loved ones.

Boomers are still playing by their own rules and they are redefining the expectations of what it means to age. For example, mature women are becoming the most important market for health and personal care products and whereas some Boomer women look to treatments like Botox to maintain a youthful appearance, many more are realizing that a healthy body involves more than just appearances. In After Sixty, 16 experts share their thoughts on marketing to Boomers as they mature.

Advertising are one of the industries most affected and agencies need to be aware that young creatives may not be the best people to create advertising for older Boomers. Seasoned Boomer copywriters and designers may be better able to hit the target when advertising to this age group.

Many banks need to heighten their ability to provide financial planning, advice on trusts and estates, and investments beyond certificates of deposit as Baby Boomers look for and understand more sophisticated types of investment opportunities.

Even casual restaurants and fast food purveyors are changing their fare, in part to cater to older Baby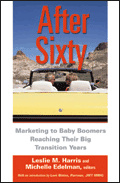 Boomers who have the money to eat out often but prefer healthier food choices.
Employers too are facing changes. Boomers make up a large share of the workforce and if all of them leave for retirement within a period of a few years, the U.S. workforce will be scrambling to replace the skills of those workers. However, the good news is that many Boomers would like to work part-time. Employers who can be flexible will find that they have a willing and experienced workforce among this older group of workers.
After Sixty explores all these issues and more, making it a one-stop read for people who are trying to catch up with where the Boomers are as they enter the later stages of life.
After Sixty: Marketing to Boomers Reaching Their Big Transition Years, edited by Leslie Harris and Michelle Edelman, December 2006, Paramount Market Publishers, ISBN: 0-9786602-0-X, $39.95) www.paramountbooks.com