Celebrating 'Enterprise of the Future' and LA CountyTechnology Leadership Award Winners
Los Angeles County's 5th Annual Technology Week, achieved "lift-off" as astronaut, scientist and technology leader Sally Ride gave her key-note leadership presentation "America's Future in Space" at an awards luncheon honoring the first LA Tech Week Leadership Award Winners at the Los Angeles Marriott Downtown.
---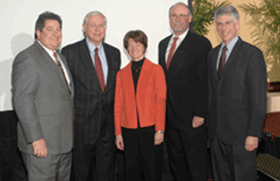 Present at the Kick-Off Program for The Los Angeles Tech Week held at the Los Angeles Marriott Downtown, from the left: Mark Lieberman, Co-Chair of L.A. Tech Week; Honorable Michael D. Antonovich Los Angeles County Board of Supervisors, 5th District; Sally Ride, Keynote Speaker, Astronaut and Technology Leader; Jon Fullinwider Chief Information Officer, Los Angeles County; Jim Schaefer, Co-Chair of L.A. Tech Week
---
L.A. County Supervisor Michael D. Antonovich presented the first L.A. County Technology Leadership Award to Jon Fullinwider, CIO L.A. County, for Technology Leader of the Year. Dr. Ride presented the Education Excellence Award, to Wendie Johnston, Director of the LA/Orange County Biotechnology Center at Pasadena City College; the Product Innovation Award was presented to Paul Glenney, Director of AeroVironment Inc.'s Clean Energy Technology Center; and the Process Improvement Award was presented to Jim McCarthy, CEO, Goldstar which is a start-up company that graduated from the Business Technology Center of Los Angeles County, the largest technology incubator in California. "We are delighted to honor our first Los Angeles County Technology Leadership Award winners. They represent world class, leading edge technology innovation, created here in LA County," said Jim Schaefer, Co-Founder and Co-Chair for Los Angeles County Technology Week and managing partner for Mark Schaefer Associates LLP.
Los Angeles County Annual Technology Week promotes the development of high-tech companies, connects technology leaders and entrepreneurs with strategic resources, and offers outstanding networking and business development opportunities and programs for everyone in technology from scrappy entrepreneurs to savvy CEOs.
At academic venues throughout the county, Tech Week 2008 showcased L.A. County's world-class innovators and experts in aerospace, aviation, business collaboration systems, entrepreneurship, homeland security, international trade, game design, and portable, mobile and broadband technology, to name just a few.
---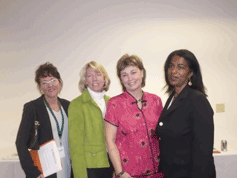 Attending the Women Entrepreneurs and Executive Event from the left: Melanie Salvesen, executive director, LA Tech Week; Chris Michel, founder, WEvolve; Mary McCormick, president & CEO, MBI Media; Allison Gibson, president, San Gabriel Valley Black Chamber of Commerce.
---
At UCLA Anderson School of Management, The Tech Coast Angels held their annual "Fast Pitch" competition where the sharpest entrepreneurs use their powers of persuasion to win the competition. Twelve companies were selected to pitch their ideas to a panel of distinguished judges while hundreds observed the contest. "Finalists received mentoring and coaching and the winners come back to make funding presentations. The audience is inspired while aspiring entrepreneurs gain additional motivation to power up their dreams," said Mike Napoli, Tech Coast Angel member and event chairman.



The Pasadena Angels created an opportunity to network with entrepreneurs and investors and to see the funding process first hand. The event featured 30-minute presentations by six local companies seeking funding and a presentation on "How to Impress An Angel and Get Your Company Funded". Several companies are being considered for potential funding as a result of the screening session during Tech Week.

USC hosted How Technology Is Transforming the Business World, CSULB hosted The Future of Technology and World Trade and Loyola Marymount hosted Technology Convergence – Creating Aerospace, Aviation and National Security with keynote speakers and panel presentations themed around "Enterprise of the Future". Woodbury University drew Studio Executives and Entertainment Moguls to learn more about Opportunities and Challenges in Portable, Mobile and Broadband - explosive growth in mobile and personal devices has combined with expanded broadband networks to enable more content choices and experiences for global consumers.

The Pasadena Bar Technology Sector hosted a panel on IP Strategy – Trade Secrets vs. Patents at the Business Technology Center (BTC); and Women Entrepreneurs and Executives Evolve and the San Gabriel Valley Black Chamber of Commerce hosted another BTC event with Mary McCormick, President and CEO of MBI Media speaking on "Women in Business - Keys to Success". Western Australian Trade and Investment Office sponsored an Alternative Energy and Clean Technology Roundtable at Caltech and Pasadena City College Digital Media Center sponsored The Future of Game Design & Development Keynote Lecture & Panel Discussion open to the public which included a discussion on the skills necessary to enter the gaming industry and digital workforce.

"The Los Angeles technology sector is unarguably one of the strongest technology economies in the world and our 5th Tech Week reflects that vitality." said Mark Lieberman, Manager, Regional Economic Development for the Community Development Commission of Los Angeles County, and Co-Founder and Co-Chair of Los Angeles County Tech Week.

Governor Schwarzenegger stated, "My gratitude also goes to the event's organizers and sponsors for fostering a powerful technology industry in Southern California. To them, and to all the participants, I applaud your fantastic efforts".

View portions of the 2008 Tech Week Kick-Off Awards and Keynote Sally Ride at:
http://www.onwebtelevision.com/TechWeek2008.html

L.A. Tech Week is designed to inform those with an interest in technology - businesses that develop technologies, and businesses fueled by technologies, developers, entrepreneurs, investors, venture capitalists, teachers and students - about the state of the technology landscape in Los Angeles County. For more information visit: www.LaTechWeek.com or contact msalvesen@msaconsult.com.