By: Patricia Hamilton



New California Guide Helps Travelers Stay Healthy on The Road

As growing numbers of consumers opt for organic food and healthier lifestyles, a new California travel guide is mapping the way. California Healthy champions the art of healthy living on the road, taking the reader off the beaten path and toward the places and events that highlight wholesome food and fitness in the Golden State. The first edition of California Healthy focuses on Southern California, covering San Luis Obispo to San Diego counties. Each county chapter features detailed listings of health-oriented restaurants, cafés, and whole food markets (including vegetarian and vegan options); organic farms and wineries; parks, beaches, town centers and walking trails; and natural food, art and cultural festivals. Convenient maps and directions show readers how to reach each place from the freeway and major roads.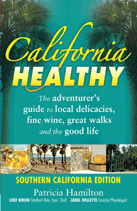 Consumers Seek Out Healthy Choices in a Fast-Food World A number of recent trends and studies point to the desire for consumers to eat healthier, and the difficulty of doing so in today's fast-food culture. California Healthy author Patricia Hamilton says her goal is to provide health-conscious consumers with as many options on the road as they would have in their home environments, with thousands of listings for whole food restaurants, cafés, markets, and fresh food events.
Hamilton is also a member of the Slow Food Movement. Originating in Italy, the movement advocates leisurely community meals that use seasonal and local foods, and supports food producers committed to sustainability and biodiversity.
"The movement offers a way of truly savoring your dining experiences, while recognizing the value of good, fresh food and the influence of local cultures and traditions on its preparation," she explains. "We need to slow down in all areas of our lives, especially when it comes to food." More information on Slow Food is available at www.slowfoodusa.org. About Patricia Hamilton A fifth generation California native, Patricia Hamilton travels the Golden State in search of the best and healthiest food, drink and walking places within its borders. For More information contact Hamilton at: CaliforniaHealthy@sbcglobal.net or visit the website: www.CaliforniaHealthy.com.