Baseball's Winning Manager —Los Angeles Dodgers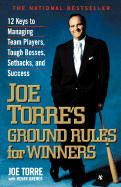 Baseballs winningest manager in postseason history, Joe Torre has moved from one storied franchise to another, and now agreeing to a three-year, $13 million contract with the Los Angeles Dodgers. He becomes the Dodgers' eighth manager since they left his hometown, where he rooted for the rival New York Giants. He succeeds Grady Little, who resigned after two seasons and with a year remaining on his contract.

After a dozen years in New York with the Yankees, Torre is now part of that Dodgers history, winning his first game as the Los Angeles manager with a 5-0 victory over the San Francisco Giants in front of a record crowd of 56,000.

The Los Angeles Dodgers have won exactly one postseason game since their 1988 world championship. That's a long time without a World Series in a city that expects to see winners and has plenty of entertainment alternatives. That includes a baseball team down the road in Anaheim that has recently overshadowed the Dodgers along with the Los Angeles Lakers that is in the finals for the NBA vs. the Boston Celtics.

Joe Torre -- Leading the New York Yankees to Glory, without question is a New York icon and one of baseball's most popular personalities. Torre is most famous for his successful career as manager of the New York Yankees. In 1996, Torre led the New York Yankees to their first World Series win since 1978. He went on to lead the Yankees to three straight World Series titles in 1998, 1999, and 2000. A former Major League Baseball player, Torre is also the co-author of two books, Chasing the Dream: My Lifelong Journey to the World Series and Joe Torre's Ground Rules for Winners: 12 Keys to Managing Team Players, Tough. and a sought-after public speaker.

He was once one of the best hitters in the National League, carrying a powerful bat at a premium position. Joe Torre was the 1971 National League Most Valuable Player and two- time American League Manager of the Year. He never played in Brooklyn, almost became a Dodger in 1968, and had to wait many years to wear blue.

Joe Paul Torre, Jr. was born on July 18, 1940 in Brooklyn, New York, the son of Joe Torre, Sr., who was a New York City police detective. He was raised in Brooklyn and graduated in 1958 from St. Francis Prep School.

In 1960, nine years after Joe's older brother Frank was signed by the Boston Braves, Joe Jr. was signed by the Braves (now relocated to Milwaukee) as an amateur free agent. Frank and Joe's father Joe Torre Sr. was a baseball scout for the Milwaukee Braves from 1955 through 1961, and for the Baltimore Orioles from 1962 until his death in 1971. Nineteen-year-old Joe Jr. came up with the Braves for a cup of coffee in 1960. Torre spent 1985-'90 seasons as a television broadcaster for the California Angels

Torre has one son, Michael, by his first wife, Jackie, whom he married in 1963. He has two daughters, Lauren and Christine, by his second wife, Dani, whom he married in 1968. Both marriages ended in divorce. On August 23, 1987, he married Alice (Ali) Wolterman. They have a daughter, Andrea, together.

Torre is happy wearing Dodger blue and drinking green tea. He lives in a friend's house in Southern California and says he "buries himself in baseball." Ali and Andrea Rae, the couple's twelve-year old daughter, will be joining Torre in July, so all he does sleep, eat and drink baseball. Scott Proctor, the Dodger who pitched for Torre with the Yankees, said in Los Angeles Joe is seemingly more laid-back than he was in New York with the Yankees..

When Torre's Dodgers visited Shea Stadium in May it was a homecoming, literally and figuratively, for Torre. He has been to New York only one day since leaving for spring training, and coming here to Los Angeles.

In addition to baseball, Torre is an avid thoroughbred horseracing enthusiast. He is a part owner of "Sis City" winner of the 2005 Ashland Stakes at Keeneland Race Course. She had been the dominant 3-year-old filly that year until finishing fourth in the May 6 Kentucky Oaks. However, a few weeks later on June 26, "Wild Desert", in which Torre is also a partner, won the $1 million Queen's Plate, the first leg of the Canadian Triple Crown. Wild Desert is also partially owned by Keith Jones, an NHL player.

One of his most proudest moments was on December 14, 2005, when Torre carried the Olympic Torch in Florence, Italy, running it 405 meters, ending at the world famous Ponte Vecchio bridge.
Joe Torre Safe at Home Foundation

Inspired by his experiences growing up as a witness to domestic violence in his household in Brooklyn, Torre and his wife Ali created the Joe Torre Safe at Home Foundation. The Foundation operates domestic violence resource centers called Margaret House, which was named after Torre's mother. The Foundation operates approximately a dozen Margaret House locations across New York City and Westchester County, New York. In October 2007, the Joe Torre Foundation partnered with Union City, New Jersey's Board of Education and the North Hudson Community Action Corporation (NHCAC) to create New Jersey's first Margaret House, at Union City's Jose Marti Middle School. Aspects of Union City's Margaret House will include a peer counseling program and an antiviolence campaign within the school, in order to encourage children to discuss family problems more freely, and training for teachers and counselors. For additional information visit www.joetorre.org
To reserve your table or for sponsorship information please contact Jennifer at 212.8