Metro Gold Line Marks Five-Year Anniversary

This month of July marks the five-year anniversary of the Metro Gold Line, the increasingly popular San Gabriel Valley rail line that whisks commuters between downtown Los Angeles and Pasadena.The nearly 14-mile line opened on July 26, 2003 and was hailed as a historic return of an electric rail corridor idled for more than 50 years. The last electric trains — the Pacific Electric "Red Cars" that traveled along the same alignment to Pasadena — ended in the 1950s.

The launch of the rail line was celebrated at Gold Line stations with unique public festivities. The opening weekend, in fact, drew more than 160,000 boarding passengers eager to take their first ride on the new line. In August 2003, its first full month of revenue service, the Gold Line logged more than 18,000 average weekday boarding's. Ridership has progressively increased since that time, reaching an all-time high of 26,338 average weekday boarding's in June, up 31.8 percent over June of last year. In the last five years, the Gold Line has carried more than 27 million boarding's.

Gold Line trains currently serve Los Angeles, Chinatown Lincoln Heights, Highland Park, South Pasadena and Pasadena. The Gold Line is now headed east with a six-mile extension to East Los Angeles scheduled to open next year. Estimated to take 17 minutes to ride between Union Station and the new terminus at Atlantic Station, the rail extension will have eight total new stations.

"The Metro Gold Line has taken its place as a critically important leg of the expanding Metro Rail System that serves the Los Angeles and San Gabriel Valley areas," said Mayor and Metro Board Chair Antonio Villaraigosa. "I look forward to the continued expansion of Gold Line service to its next destination of East Los Angeles."

Over the years, Metro has increased the frequency of Gold Line service during peak hours to enable more commuters to quickly reach their destinations. Trains run about every 7-8 minutes in the morning and afternoon rush hours, and 12 minutes during afternoon hours.

"The Gold Line is fulfilling its promise as a frequent transit service of choice for cost-conscious commuters," said John Fasana, Metro Board Member and Duarte City Council Member.

When it opened, the Metro Gold Line brought a new generation of Tournament of Roses parade goers to parade-related events after almost 50 years' hiatus. With its convenient stops at Del Mar, Memorial Park and Allen Stations, the Gold Line has served as a relief valve for Pasadena-area traffic. More than 60,000 New Year's Day boarding's are common as Angelinos throughout the county ride into Pasadena on Metro Rail for Tournament of Roses Parade, football game and other post-parade festivities.

Metro as well as municipal bus operators including Pasadena, Sierra Madre, Foothill and Montebello Bus Lines have made numerous bus line changes to connect passengers with Gold Line stations.
To download a Metro Gold Line timetable or plan your trip, visit www.metro.net. For transit trip planning assistance over the phone, call 1-800-COMMUTE.

Metro Gold Line Sets All-Time Ridership Record

The Metro Rail Gold Line set new weekday ridership records for the month of June, as Los Angeles County commuters increasingly turned towards public transportation for their daily commute, announced Supervisor Michael D. Antonovich.

"The cost-effective, convenient alternative to driving propelled the Gold Line to an all-time high in ridership," said County Supervisor and MTA Director Michael D. Antonovich. "It is vital that funding of the Gold Line extension through the San Gabriel Valley is provided now by the MTA to secure federal funding. We only have two months for Congress to act – but MTA funding is required first. "

The Metro Gold Line from downtown Los Angeles to Pasadena, set a new ridership record for the second month in a row, with 26,338 average weekday boarding's -- up 31.8 percent in over last year.

To expedite plans to extend the Gold Line to Azusa and the Ontario Airport, the MTA must take action to provide both $80 million and a commitment to operate the extension before the federal fiscal year expires in October, to allow the San Gabriel Valley congressional delegation to pursue federal matching funds this fiscal year.
"When the MTA asked the San Gabriel Valley to support the passage of Proposition 1B in 2006, the promise was made that the Foothill Extension would receive funding from the bond if it passed," said Antonovich. "The MTA needs to fulfill that promise to the San Gabriel Valley, and allow our Congressional leaders the opportunity to leverage those dollars to bring new federal dollars into the County."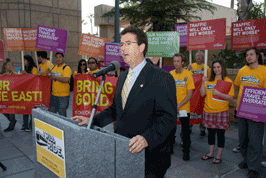 Monrovia Mayor Rob Hammond speaks at the I Will Ride student news conference, encouraging METRO to include the Foothill Extension in the funded portion of its Long Range Transportation Plan.