By: John Krikorian



Oscar Winner Comes to Glendale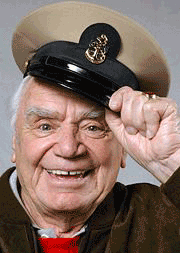 Former McHale's Navy Star

For more than fifty years Ernest Borgnine has been one of the most recognized, celebrated stars in Hollywood. In 2007, Borgnine became the first Oscar winner for Best Actor to be still alive on his 90th birthday.

The former McHale's Navy star, Borgnine born Ernest Effron Borgnino in Hamden, Connecticut, the son of Anna (née Boselli) who immigrated to the U.S. from Carpi, Italy and Charles B. Borgnino, who immigrated to the U.S. from Ottiglio, Italy. His parents divorced when he was two years old and he and his mother went to live in Italy, but five years later they returned to Hamden, Connecticut, where he attended public schools.

As an only child, Ernest enjoyed most sports, especially boxing, but took no real interest in acting. At 18, after graduating from high school in New Haven, and undecided about his future career, he joined the United States Navy in 1935, where he stayed for ten years until leaving in 1945. He was discharged in 1941, but he re-enlisted when the United States entered World War II and served until 1945 (a total of ten years), reaching the rank of Gunner's Mate 1st Class. His military decorations included the American Campaign Medal, the Good Conduct Medal, the American Defense Service Medal with Fleet Clasp, and the World War II Victory Medal.

After a few factory jobs, his mother suggested that his forceful personality could make him suitable for a career in acting, and Borgnine promptly enrolled at the Randall School of Drama in Hartford. After completing the course he joined Robert Porterfield's famous Barter Theatre in Abingdon, Virginia, staying there for four years, undertaking odd jobs and playing every type of role imaginable. His big break came in 1949, when he made his acting debut on Broadway playing a male nurse in "Harvey".

In 1951 Borgnine moved to Los Angeles to pursue a movie career, and made his film debut as Bill Street in The Whistle at Eaton Falls (1951). His career took off in 1953 when he was cast in the role of Sgt. "Fatso" Judson in From Here to Eternity (1953). This memorable performance led to numerous supporting roles as "heavies" in a steady string of dramas and westerns. He played against type in 1955 by securing the lead role of Marty Piletti, a shy and sensitive butcher, in Marty (1955). He won an Academy Award for Best Actor for his performance, despite strong competition from Spencer Tracy, Frank Sinatra, James Dean and James Cagney.

Ernest Borgnine has often stated that acting is his greatest passion, and he's still working today. His amazing 51-year career includes appearances in over 100 feature films and three television series, as well as voiceovers in animated films such as All Dogs Go to Heaven 2 (1996) and Small Soldiers (1998).
Borgnine has married five times, including Ethel Merman in 1964. Their marriage was dissolved after 32 days. Borgnine, who was riding high as the star of "McHale's Navy" at the time, said the marriage began unraveling on their honeymoon, when he received more fan attention than she did.

He married, Tova Traesnaes, (1973 to date) who heads her own cosmetics company. They live in the same Beverly Hills, home that he bought in 1965, where Borgnine assists his wife between film projects. When not acting, he actively supports numerous charities and speaks tirelessly at benefits throughout the country. In 1996 he purchased a bus and traveled across the U.S. to see the country and meet his many fans.

He holds the 33rd degree of the Scottish Rite of Masonry and has long been active in the Craft and is also a member of the Shriners. Borgnine is also a recipient of the Grand Cross, which is the highest honor for service to the Scottish Rite. Borgnine is also a member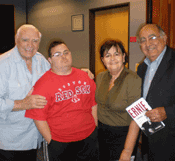 of the Lambda chapter of the Delta Kappa Epsilon fraternity.

Borgnine also had a street named in his honor in his hometown of Hamden, Connecticut, and still retains a large and vocal following in that area.

On March 2006, he was given a standing ovation when introduced at the National Italian American Foundation's salute to the Academy Awards, which was celebrating 78 years of Italian-American Oscar winners and nominees.

In 2007, he received California's highest civilian honor, the California Commendation Medal. It was presented to him on the set of A Grandpa for Christmas by Major General William H. Wade II, Adjutant General and Commander of the California National Guard for a lifetime of exceptionally meritorious service as well as recognizing Borgnine's "heartfelt advocacy on behalf of military personnel and veterans on many fronts, including the California National Guard".
Ernest Borgnine, far left with Ara Krikorian, Elsie Krikorian Senior Living, John Krikorian Senior Living Magazine at the book signing of his new book ERNIE: The Autobiography in Glendale, California.